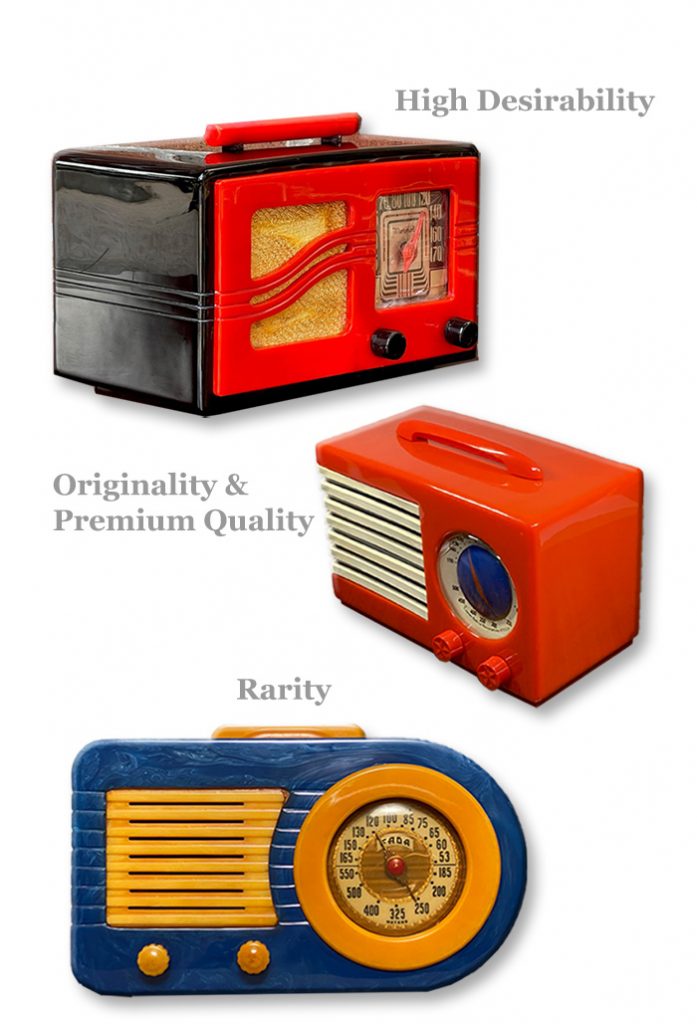 Catalin Radio Sales
We Sell Radios That Stand Proud In Your Radio Collection...
We become familiar with your collecting objectives, your wish list and what you are looking to buy now.New collectors receive our guidance on how to start and grow a Catalin radio collection.  Our input avoids the costly mistakes new collectors often make.
SILVERTONE 6110 "ROCKET" BAKELITE RADIO
"Bakelite Perfection"
A Bakelite radio for serious radio collectors.  The Silvertone 6110 "Rocket" is considered one of the most desirable radios of the 1930s-1940s.  The challenge when buying one of these radios is that many of them are damaged in one way or the other. It is a rarity to find one in absolutely perfect condition like the one pictured here.
PRICE-
SOLD
FADA 711 "Dip Top" Catalin Radio- Green Onyx
We sold a FADA 711 Catalin Radio- green onyx recently and the interest in the radio and its beautiful color and incredible swirling brought a lot of attention by collectors.  If there is a good price point for a Catalin radio, this radio personifies great styling and modest price. 
PRICE- 
SOLD
General Electric L571 Catalin Radio- Butterscotch
This GE model L570 is a standout for two reasons.  The radio is in perfect condition with no defects and it is 100% all original.  This is not to mention the even patina that has a beautiful color.  
PRICE-
$895.95
   COMING SOON! 
EMBELLISHED ART DECO
Take this exciting voyage through the mind of Lou Woolf as he transformed Art Deco plastic and wood radios of the 1930s-1950s into glamorous new art forms.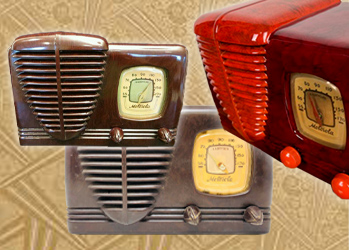 Radio Collector Reference Books
Classic Plastic Radios of the 1930s-40, by John Sideli- Near Mint
Classic Plastic Radios of the 1930s-40, by John Sideli- Good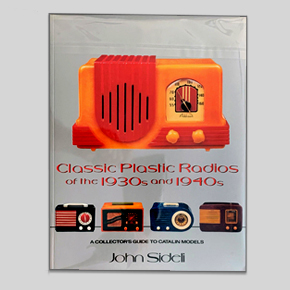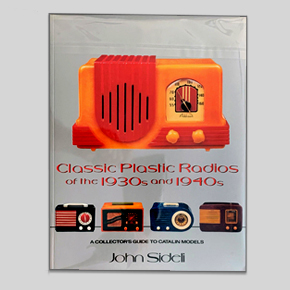 General Television (GTV) A5A (1)
General Television (GTV) A5A (2)
Restoration & Repair Services
We Offer a Catalin Radio Restoration Service That Will Astonish You With The Results.
The best way to brighten up and increase the value of your Catalin radio collection is through our Premium "Cut & Polish" process.  In addition to "Cutting" away unwanted oxidation, surface scratches and other such imperfections, the cabinet is prepared to receive its final finish.
After years of experience and researched, we developed a technique to refine cabinet to a mirror-like finish.  This is a major step up from a high-gloss finish.
If your Catalin radio is damaged, we repair most cracks, hairlines, missing pieces, etc.  A well done repair will improved the display quality of your radio and make it easier to sell down the road.
GOLD Series Catalin Radio Dial Lenses
Finest Dial Lenses Available.  Exclusively Offered By the Catalin Store.
Newest Plastic Technology
Over the years, tremendous refinements have been made in the manufacturing of plastics and protective agents . We have combined the best plastic and protective coating to create the next generation of dial lenses.
Advantages
| | |
| --- | --- |
| Thermal Plastic | Ceramic Coated |
| · Precision molded | · Longer life span |
| · Crisp contours | · Crystal clear |
| · Laser cut edges | · Crack resistant |
| · No shrinkage | · Scratch resistant |
| · No distortions | · UV resistant |
Order Your Next Dial Lens 
It is a simple process to order a dial lens through the Catalin Store.  Click the link below to the selection of lenses that you can choice from and pay via quick check-out. Your new dial lens will be shipped to you safely in a box. 
Copywrite
No part of this online antique radio website may be re-produced without prior written agreement. 

© 2022 Catalin Store Selling and Buying Catalin Radios


Liquid error: Could not find asset snippets/sectionhub.liquid